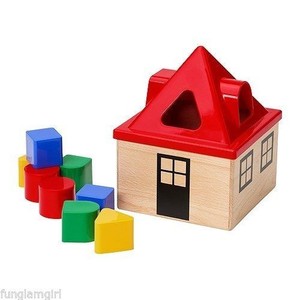 Yesterday morning M (now 20 months) and I were playing with various toys from one of the baskets in our living room. She got very interested in our Ikea shape sorter. At first she was really frustrated putting the shapes in the spots, but the more we worked together, the easier it became and by the end, she was doing it on her own (I was still helping her match the shapes to the spots, but she was putting them in the holes on her own).
I named each shape as she worked it into the matching hole and I praised her progress with each new shape she put into the sorter. Next time we play, I will talk about the different colors too. It was enough this time to just talk about the shapes and help her match them to the corresponding spots.
It was just a really fun and simple way to work on shape concepts, fine motor skills, vocabulary, matching skills and M's self-esteem all at once. We sat together for about eight minutes working on this, but because I had all my focus on her, it felt like a really special moment. Once M masters this shape sorter, we will move on to a more complicated Melissa & Doug one with smaller shapes with more variety that she got for Christmas this past year.